・身体動作修正のためのインタフェース
The development of a widely applicable automatic motion coaching system requires to address a lot of issues including motion capturing, motion analysis and comparison, error detection as well as error feedback. In order to cope with this complexity, most existing approaches focus on a specific motion sequence or exercise. As a first step for the development of a more generic system, this work systematically analyzes different error and feedback types. A prototype of a feedback system that addresses multiple modalities is presented. The system allows to evaluate the applicability of the proposed feedback techniques for arbitrary types of motions in a next step. The screenshot of the developed interface system is shown in Figure 2.
図2: インタフェースのスクリーンショット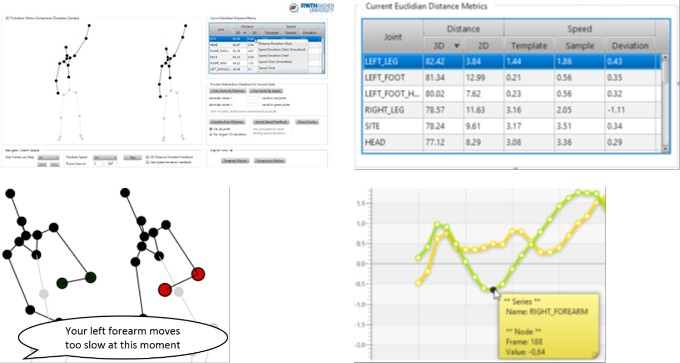 ・Human Body-parts Tracking for Fine-grained Behavior Classification

This work discusses the usefulness of human body-parts tracking for acquiring subtle cues in social interactions. While many kinds of body-parts tracking algorithms have been proposed, we focus on particle filtering-based tracking using prior models, which have several advantages for researches on social interactions. As a first step for extracting subtle cues from videos of social interaction behaviors, the advantages, disadvantages, and prospective properties of the body-parts tracking using prior models are summarized with actual results.