Field-Search
All the first-year students at the graduate school must take this program in the first year. The program consists of various activities;

Participation in conferences and meetings at various levels, where topics relevant to his/her thesis work is to be discussed.
- Each student must also search works relevant to thesis work, that were previously published.
- Each student is also encouraged to contact to those who are active in the fields relevant to thesis work.
- Each student must fulfill all the requirements set forth elsewhere.
- The credit is 1 unit.

Achievement in fiscal 2010: 42 students ・ 51 cases
M1: 36 students・45 cases, M2: 1 case, DD: 1 case, Doctor: 4 students・4 cases
The 47th Heat Transfer Symposium, Japan
(May 26~28, 2009 Sapporo)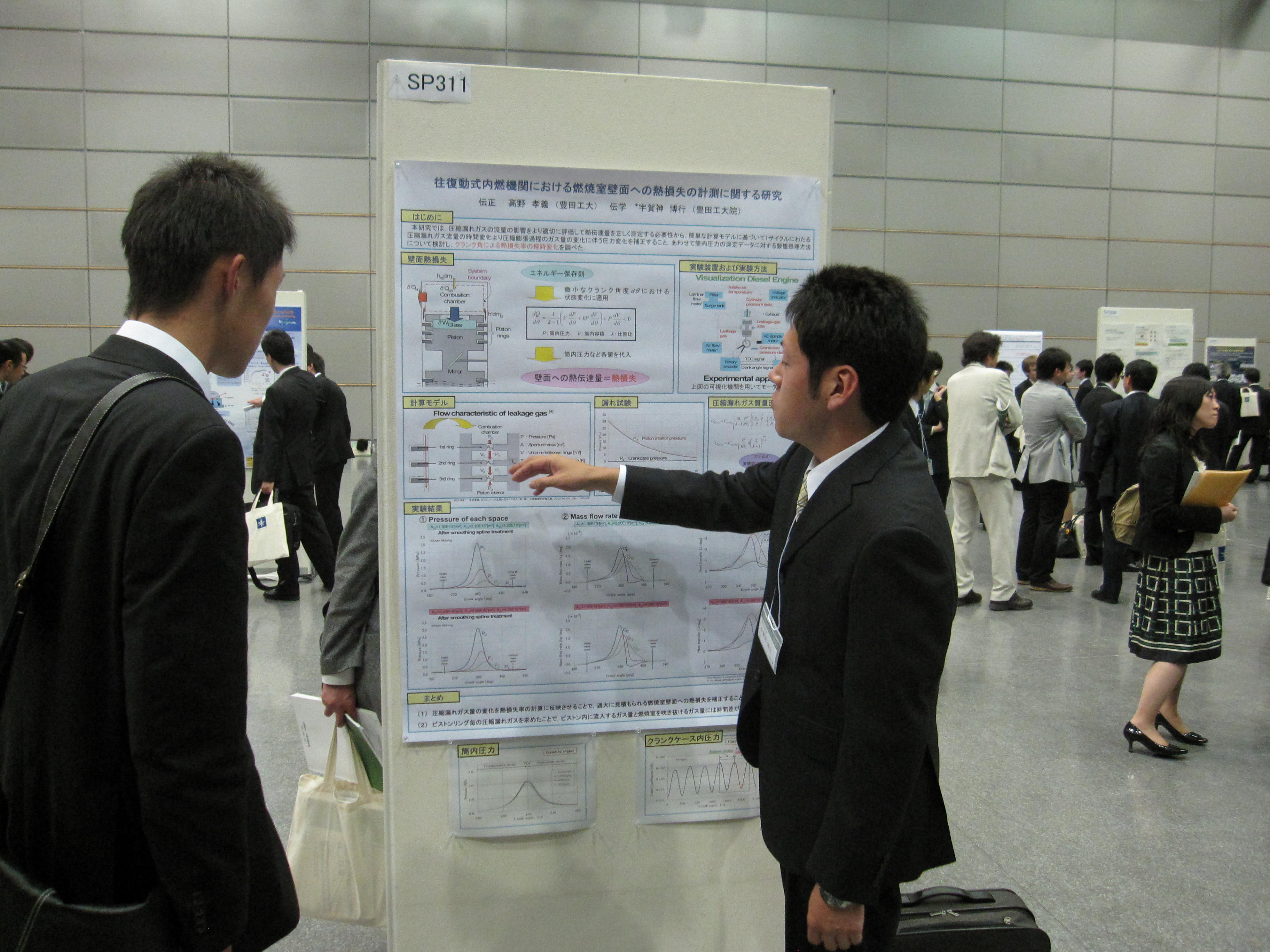 poster session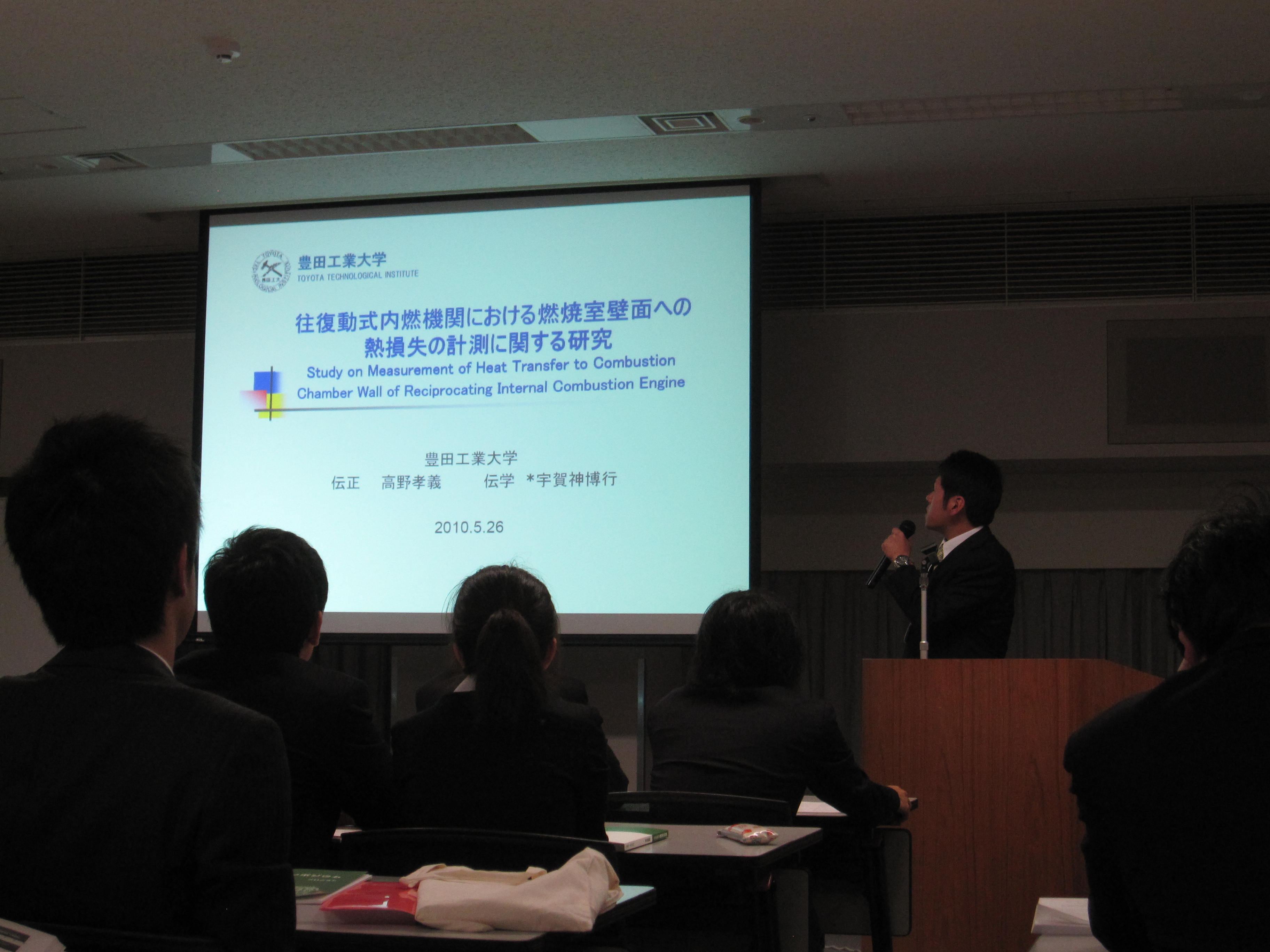 presentation at workshop
Achievement in fiscal 2009: 62 cases for 1st year of Master
Cutting-edge Seminar of AFM/SPM Nano Imaging(April 23, 2009 Tokyo)
Symposium at Noyori Conference Hall(April 14, 2009 Aichi)
The 5th Workshop on applications for nitride semiconductors
(Toyohashi University of Technology) (May 29, 2009 Aichi)
Presentation
Facility tour (Clean Room)
The 6th Symposium on the Future Direction of Photovoltaics
(July 1-3, 2009 Niigata)
Presentation
Poster Session
                  Awarding Ceremony
Takuto Kojima (Semiconductor Laboratory) gave a presentation of "The Structure of Grain Boundaries and the Electrical Properties in Polycrystalline Silicon".
He won the Young Researcher Award.
Achievement in fiscal 2008: 10 cases for 1st year of Master
| Name of the Conference | Place | Date | Participant |
| --- | --- | --- | --- |
| 20th Jpn. Soc. Rheol. Symposium on Polymer Processing Technologies | Aich | Oct.20-21 2008 | 1 |
| The 153rd JFS Meeting/YKKAP factory tour | Ishikawa/Toyama | Oct.25-27 2008 | 1 |
| 3rd International Conference on Positioning Technology | Shizuoka | Nov.27-28 2008 | 1 |
| The 29th Symposium on Fatigue | Kyoto | Nov.19-21 2008 | 1 |
| The 46th Symposium on High-Temperature Strength | Hokkaido | Dec. 4-5 2008 | 1 |
| 2009 JSPE Spring Meeting | Tokyo | Mar.11-13 2009 | 3 |
| The 56th JSAP Spring Meeting | Ibaragi | Mar.30-31 2009 | 1 |
| The 64th JPS Annual Meeting | Tokyo | Mar.27-30 2009 | 1 |